Case Studies
the ocmls website
Unique branding and website deliver new clients for Orange County Realtors.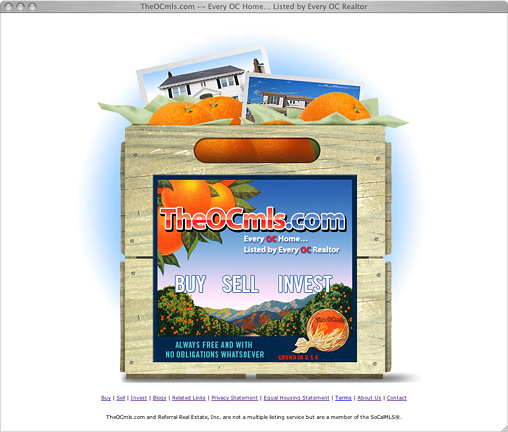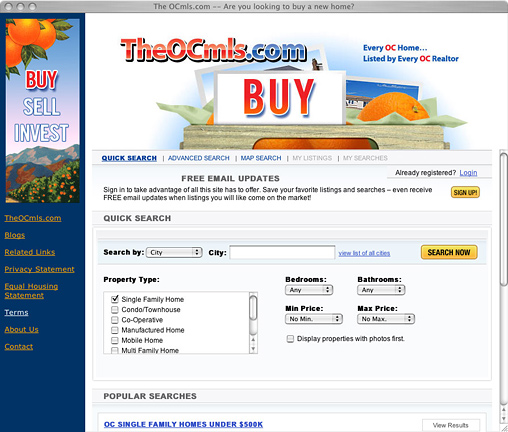 The challenge
How do you allow buyers, sellers, and investors to search the Internet for free, while having a uniquely branded experience. And how do you convert those looking for houses, into buyers who want to use you as their agent?
The solution
With its Orange County listings and its OC Web address, the vintage orange crate theme for the website was a natural fit.
Photos of homes among the oranges, the logotype, the slogan for TheOCmls, the tag line, and the navigation have fun with the vintage theme while still conveying the essential branding and navigational information.
Using frames as the structure, while not the best option for SEO optimization, allowed the incorporation of the official MLS listings while still having the unique brand experience. (Update: TheOCmls now links directly to the official MLS site, not in the original frame.)
The result
The result is a fun, clean, professional website that invites buyers, sellers and investors to search real estate listings for free with no hassles and allows TheOCmls to help real buyers who are ready to buy. View the site.
View the site. www.TheOCmls.com
vantage financial partners limited capabilities brochure
Sales brochure attracts "C" level executives, looking for trust and expertise, with a high-end design.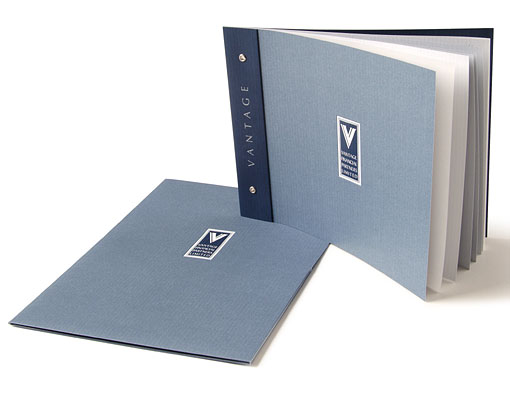 The challenge
Catering to "C" level executives in the Chicago area with wealth management issues, Vantage Financial Partners needed a sales presentation that would communicate a high level of stability, trust, and expertise.
The solution
The best approach to the problem was to design a sales brochure and folder that was understated, sophisticated, and classic.
The brochure and folder design incorporated subtle, yet unique features. For instance, the brochure had grommet bindings with a "swatch book" wrap-around back cover, vellum flysheets, and textured uncoated sheets inside.
On the outside, the folder and the brochure used debossing and foiling on the covers and creative use of spot metallic colors and spot varnishes. Throughout the piece, a blue, two-tone color scheme kept the branding consistent while adding visual interest.
The result
The result is a design that is clean, understated, elegant and sophisticated, while the subtle details made it stand out from its peers. The folder and brochure working together allowed Vantage to present timely information with a consistent brand messaging.